What makes Dinostar Aluminum Billet popular in domestic and international markets?
Aluminium Billet branded Dinostar is one of the key products of Ngoc Diep Aluminum Joint Stock Company (under Ngoc Diep Group), with annual supply volume of up to 60,000 tons to the domestic and overseas market. In addition to its popularity and trust among domestic aluminum manufacturers, Dinostar Aluminum Billet is very popular and trusted by foreign aluminum manufacturers for the following reasons:
1. Superior Quality
Dinostar Aluminum Billet is a clear demonstration of Ngoc Diep Group's business philosophy: "Putting quality at the center of development". Products are manufactured from high-quality raw materials at Dinostar Aluminum Factory, meet by strict domestic and international standards.
Different from ordinary billet products on the market, Dinostar Aluminum Billet has the main ingredient of imported high-grade Ingot aluminum grade A with a pure aluminum content of up to 99.89% and an iron content of less than 0.05% – limited maximum oxidation state. In addition, to produce high-quality billet aluminum requires large investment costs in machinery systems and production lines, so not all businesses can afford to invest. Dinostar Billet Aluminum is produced at the high-tech Dinostar Aluminum Factory with a scale of up to 120,000 m2 with a modern production line system imported from Japan, Germany and Italy. The system of 3 kilns and the state-of-the-art casting and homogenization system has a capacity of up to 60,000 tons of billets per year. As a result, Billet Dinostar products have smooth surface, outstanding strength and corrosion resistance, flexible bending and good melting temperature, convenient for production.
Dinostar Aluminum Billet is produced on the most advanced machinery line system
Aluminum profile products manufactured from Billet Dinostar fully meet the requirements of physical and mechanical properties such as tensile strength, yield strength, elongation,… and the alloy chemical composition complies with strict standards. Slots of Vietnam and international standards such as TCVN 12513, JIS H4100 standard of Japan, ASTM standard of the United States of America, etc. Surface of aluminum bar after extrusion has good corrosion resistance, easy surface treatment. , powder coating or anodizing.
2. Diversified and suitable for customer needs
The Dinostar Billet Aluminum product line has 6000 series, 7000 series with various sizes from 4 inches to 9 inches and is cut to standard lengths of 5.8m, 6m, … depending on the needs of customers. In addition, Billet Dinostar aluminum products are alloys of aluminum and elements Si, Mg, Cu, …, combined to form a variety of aluminum alloys such as A6061, A6063, A6005A, …, meeting the needs of customers. Diversity of customers in the fields of construction, manufacturing industry and consumer goods,… High strength, good formability, ease of processing and excellent corrosion resistance are the advantages that make Billet Dinostar aluminum becoming a popular choice for manufacturing aluminum door systems in construction as well as used in mechanical engineering, transportation, energy, electronics, telecommunications, etc.
In addition, the R&D Center is built in the Dinostar Aluminum Factory itself with modern equipment, in order to constantly research, improve and develop products to better meet the needs of customers. customers and markets.
DINOSTAR Billet Aluminum products come in a variety of sizes and types, and are continually being improved and developed.
3. Environmentally friendly
The trend of using green products is becoming more and more popular and driving the entire manufacturing industry to change. Today's market not only requires quality products, but also requires environmentally friendly products and services right from production to consumption.
Dinostar aluminum in general and Billet Dinostar aluminum in particular have passed rigorous tests of international inspection organization SGS to meet the RoHS (Restrict of Hazardous Substances) green standard issued by the European Union. This is a strict standard, requiring clean materials, limiting hazardous substances on products to ensure safety for the living environment and human health. Dinostar aluminum has become a pioneer brand in the domestic and foreign aluminum market in the trend of using green materials of international quality, safety and environmental friendliness.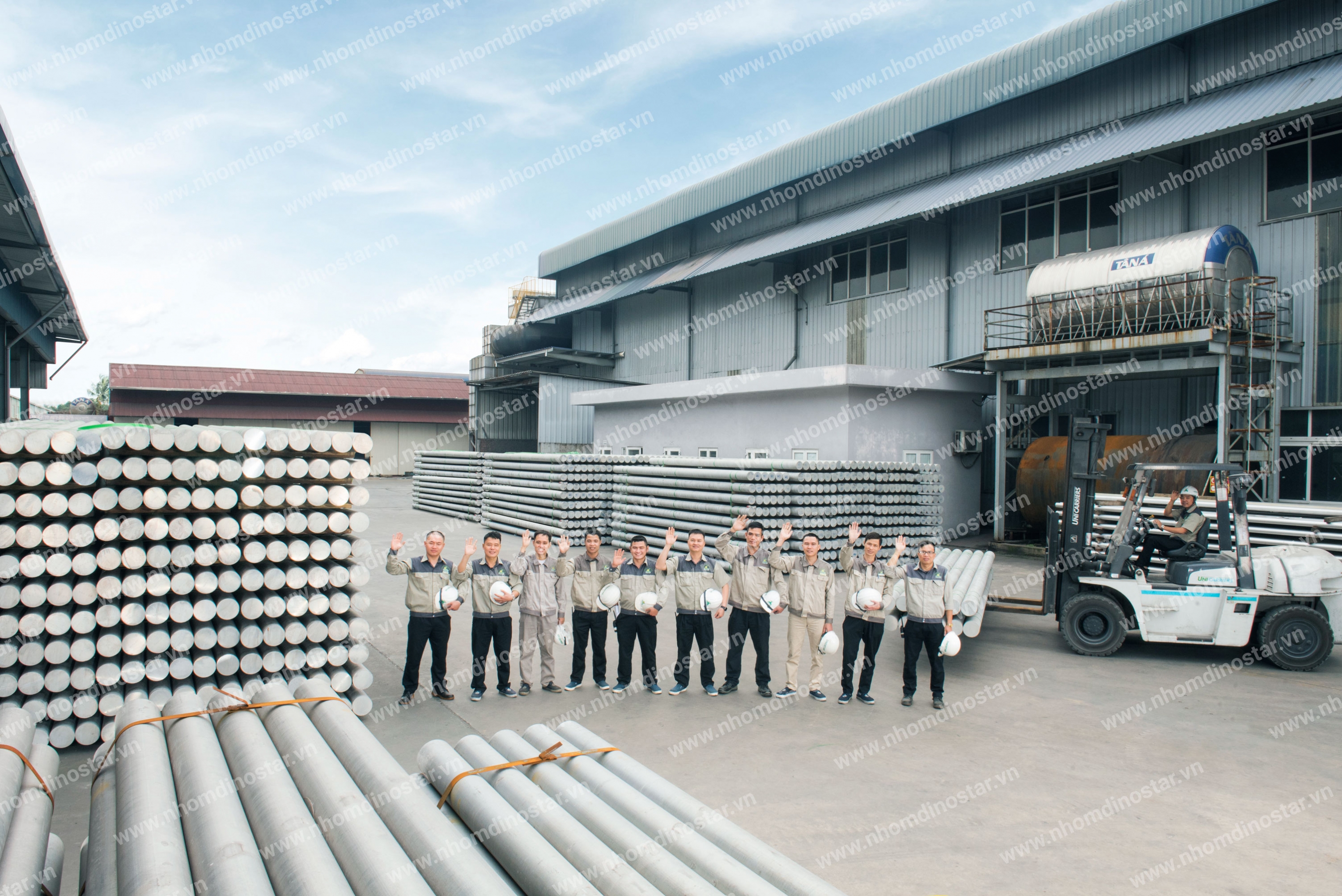 Aluminum Billet Dinostar has been certified as a green product, protecting the environment
With the above advantages, Billet Dinostar Aluminum is always appreciated for both quality, product variety and safety for the environment. Not only stopping at the domestic market, over the years, Billet Dinostar Aluminum has successfully exported to demanding markets such as the US, Canada, Australia and Europe, contributing to affirming the position of Vietnamese aluminum in the international market economic.