Ngoc Diep Group reached the Top 500 fastest growing enterprises in Vietnam in 2021
On April 27, at Sheraton Hotel, City. Hanoi, Vietnam Report Joint Stock Company (Vietnam Report) cooperated with Vietnamnet electronic newspaper – Ministry of Information and Communications to hold a ceremony to honor and announce TOP500 fastest growing enterprises in Vietnam in 2021. Ngoc Diep Group overcame many enterprises and was honored to rank 145/500 in the FAST500 Ranking of Vietnam's fastest growing enterprises in 2021.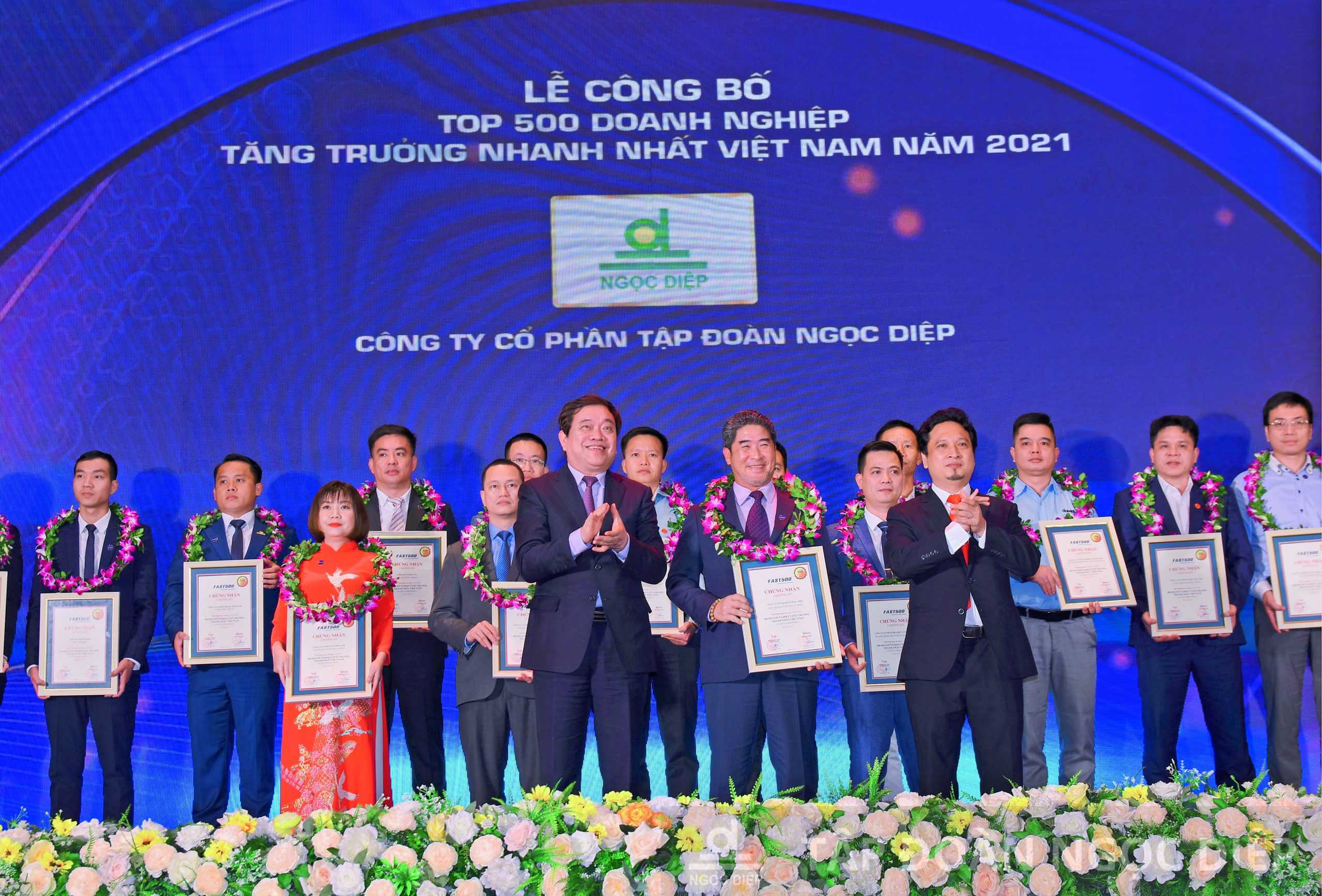 Mr. Tran Huu Quan – Deputy General Director of Ngoc Diep Group received the honor of FAST500 Fastest growing enterprise in Vietnam
Ngoc Diep Group – "The rising star" of Vietnam's economy
FAST500 – Ranking of 500 fastest growing enterprises in Vietnam – based on independent research and evaluation results according to international standards of Vietnam Report, published annually since 2011, with consultation of experts and advisory councils at home and abroad.
Ngoc Diep Group is considered a fast-growing enterprise with double-digit annual revenue growth in the context of the general economy's difficulties. 2016-2020 is the period when Ngoc Diep Group expands into the field of aluminum production and business with the largest and most modern factory in the field of aluminum production in Vietnam today. After only 5 years of investing in this field, Ngoc Diep Aluminum with the Dinostar Aluminum brand has grown strongly in both Construction Aluminum – Industrial Aluminum and Billet Aluminum, becoming the new growth engine of the Group. Traditional business fields such as NGOCDIEPWINDOW, Ngoc Diep Furniture, Ngoc Diep Packaging continued to grow steadily, making important contributions to the overall growth. Ngoc Diep branded products have been contributing to creating a spacious appearance for hundreds of thousands of works across the country and promoting the overall economic development of the country.
Ranked in the FAST500, Ngoc Diep Group is proud of its efforts and recognized achievements.
"Overcoming Challenges – Taking Opportunities"
2020 is a tumultuous and challenging year for the global economy when the Covid-19 pandemic broke out, causing serious impacts, causing many businesses to "collapse". In that context, Vietnam's economy still achieved "miracle" results, still maintaining a positive GDP growth rate.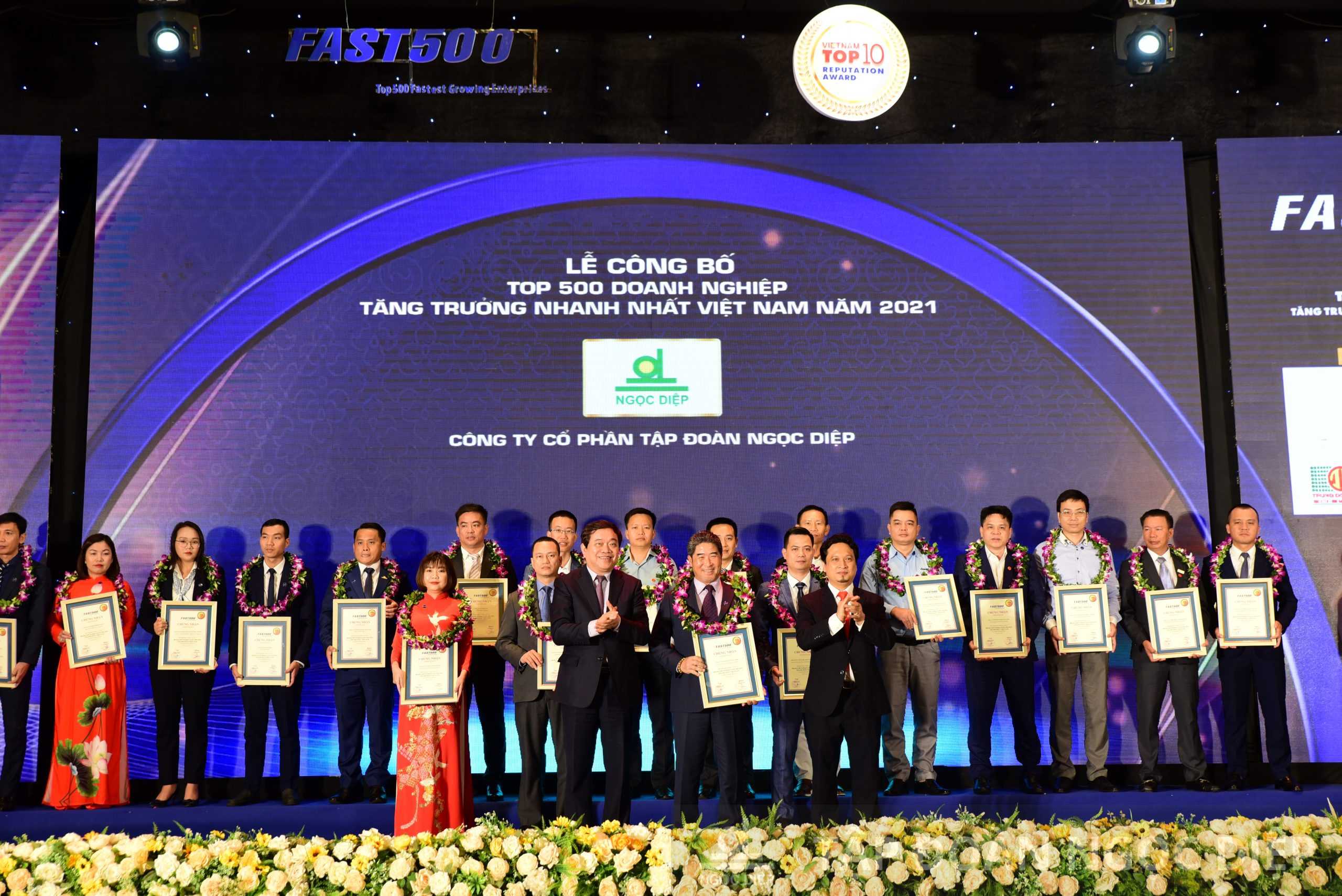 Ngoc Diep Group is honored and proud to be one of the fastest growing businesses in Vietnam in 2021, contributing to a "miracle" Vietnamese economy during the pandemic.
Contributing to the economic growth of the country, Ngoc Diep Group has restructured its personnel apparatus, completed the operation process, changed its perspective, and found new directions with an investment strategy for sustainable development. stable during the pandemic. Ngoc Diep Group's advantage is to provide diversified products for both domestic and export markets. In addition, the proactive supply thanks to the closed value chain helps the Group's production and business to be maintained stably. Turning risks into threats, taking advantage of opportunities has helped Ngoc Diep Group be honored on the prestigious FAST500 Ranking.
Participating in the Ranking of 500 Fastest Growing Enterprises in Vietnam 2021 on the occasion of the 25th anniversary of its establishment is even more important, opening a new beginning for Ngoc Diep Group on the journey of "creating the future." " associated with sustainable development values.
Source: Cafef