Ngoc Diep Group: 25 years of building a solid foundation for the future

Over 25 years of establishment and development, Ngoc Diep Group has established itself as a leading prestigious multi-industry corporation in Vietnam (Photo: Ngoc Diep Group's Board of Directors
The year 2021 marks the "fire test of gold" century along with the Vietnamese economy of Ngoc Diep Group. During the past 25 years of its establishment and development, Ngoc Diep Group has contributed to the creation of high quality and sustainable projects, making it one of the country's leading corporations.
Quality in every product is the key to success 
Taking quality as a guideline throughout all fields of activity, Ngoc Diep Group constantly innovates modern equipment and machinery imported from countries with advanced industries in the world, in order to create high quality products, meeting the increasingly strict demands of the market. Breakthrough from quality is the core of Ngoc Diep Group's competitive advantage, enabling the Group to sustain its value over time and to maintain its leadership position.
Ngoc Diep Group is proud to maintain the operating motto: "Put quality at the center of development" throughout the company's 25-year development journey. Despite the fact that the world economy in general and Vietnam in particular are experiencing difficulties due to the impact of the Covid-19 pandemic, the Ngoc Diep Group remains a leader in the market with impressive growth in all indicators, including revenues, profits and production output in all 4 business areas.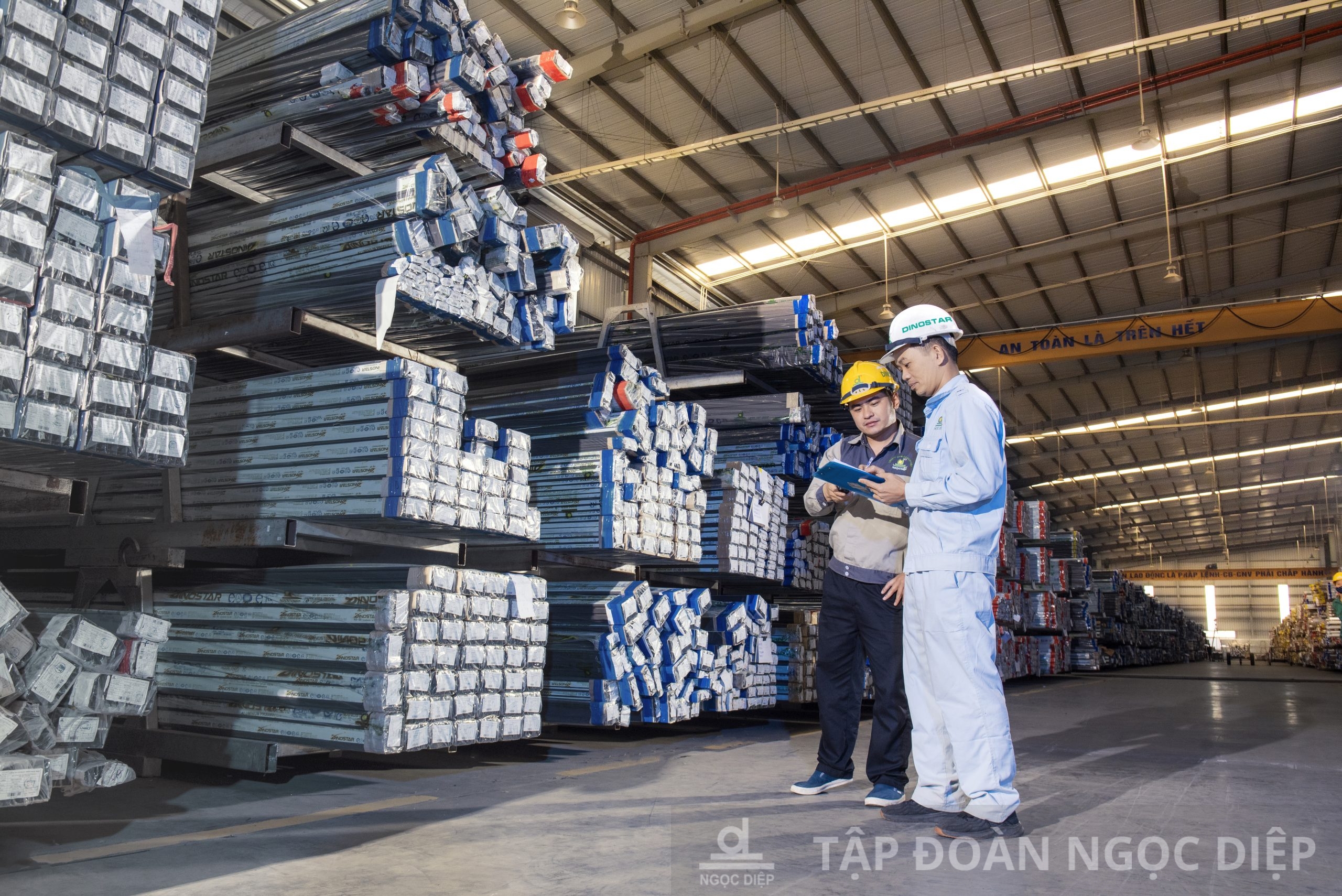 Ngoc Diep Group always maintains and develops quality and environmental management systems in accordance with ISO 9001: 2015 and ISO 14001: 2015 standards.
25 years, 4 member companies and a solid position in the hearts of customers
In 25 years since its foundation, Ngoc Diep Group has become a leading prestigious corporation, owning 4 subsidiary companies in the fields of Aluminum – Windows & Doors – Packaging – Furniture as well as a network of agents covering all 63 provinces and cities.
Ngoc Diep Trading & Production Co., Ltd:
Established in 1996, Ngoc Diep Furniture specializes in consulting, designing and installing interior systems for offices, families, schools, hospitals, etc., The company is a reputable brand with a large market share in the office furniture market in Vietnam.
The company has designed and installed projects for a wide range of domestic and foreign organizations, administrative agencies, ministries and sectors.
Ngoc Diep Joint Stock Company:
Founded in 1998, Ngoc Diep Joint Stock Company has grown to become one of the largest carton packaging manufacturers in the North with a factory of more than 40,000 m2 in the Pho Noi A Industrial Park, Hung Yen province.
The Ngoc Diep Packaging Company is a supplier of a series of big brands in the fields of food, electronics and consumer goods, …
In particular, Ngoc Diep Joint Stock Company is the only packaging manufacturer that has been honored with the National Brand Award twice in a row and won the Golden Prize of the National Quality Award.
NGOCDIEPWINDOW Joint Stock Company:
Established in 2010, NGOCDIEPWINDOW Joint Stock Company operates in the field of manufacturing, distributing, installing Aluminum & Plastic Windows and Doors – Facades with the brand NGOCDIEPWINDOW. With a factory area of more than 40,000m2, modern technology lines, automation and highly skilled staff, NGOCDIEPWINDOW products have a harmonious structure; sound insulation, heat insulation; electricity-saving; fire resistance and high corrosion resistance with a modern and luxurious appearance.
NGOCDIEPWINDOW is always trusted and appreciated by investors in construction projects and is an important partner of many large real estate corporations such as Vingroup, BIM Group, Hoa Phat Group, …
Ngoc Diep Aluminum Joint Stock Company:
Founded in 2016, Ngoc Diep Aluminum Joint Stock Company has developed the Dinostar Aluminum brand with the main product lines being Industrial Aluminum, Construction Aluminum, Aluminum Billets. The DINOSTAR Aluminum Factory of Ngoc Diep Group is one of the leading aluminum factories in Vietnam with an area of ​​more than 75,000m2 and a modern technology system. Dinostar is the factory with high automation rate in the country with a closed production system, from billet casting to finished products.
Dinostar aluminum is not only a testament to Ngoc Diep Group's motto "Putting quality at the heart of development" but also contributes to helping Vietnamese aluminum products getting closer to quality standards and keeping up with international technology trends.
After 5 years of operation, Dinostar Aluminum has become the new growth engine of Ngoc Diep Group with revenue and profit continuously increasing. On the momentum of development, Dinostar Aluminum continues its mission of building a high-quality Vietnamese aluminum brand, affirming its international presence.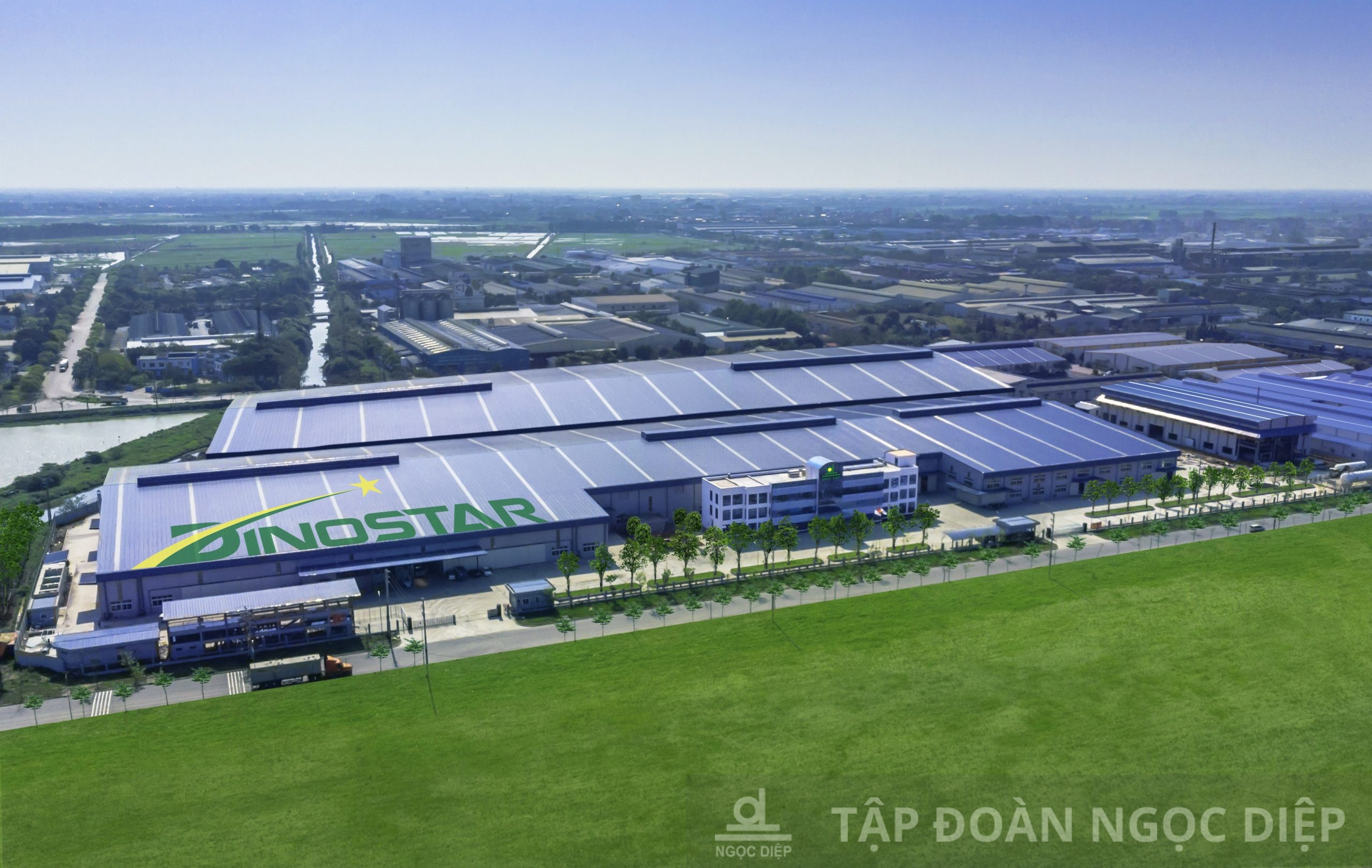 With a factory of 75,000 m2, Ngoc Diep Aluminum Joint Stock Company is one of the leading aluminum producers in Vietnam.
Sustainable development along with community responsibility
Developing in a sustainable direction, Ngoc Diep Group always complies with its commitment to environmental protection, invests methodically in wastewater and industrial waste treatment lines, and establishes a standard environmental management system.
Ngoc Diep branded products not only enhance the beauty of the works, affirm the sustainable value over time but are also environmentally friendly, protecting the health of consumers.
In addition to production and business activities, Ngoc Diep Group also spends hundreds of millions of dong per year on social charity activities such as supporting disadvantaged children in mountainous areas through the series of programs "Going to school with students", assisting the Government in natural disaster and epidemic prevention.
Ngoc Diep Group: Leading the future
Ngoc Diep Group has been committed to non-stop innovation efforts for the past 25 years. The group prides itself on being one of the leading corporations in Vietnam's manufacturing and construction industries.
2021 marks the start of a new era for Ngoc Diep Group. The group continues its commitment to moving forward in a sustainable direction and bringing true values ​​to our customers and community.