Dinostar Aluminum: What makes it different
Ngoc Diep's DinoStar Aluminum brand won the title of "Top 10 Vietnam Leading Brand 2020" after applying 4.0 technology into production and digitizing operation management.
The award by the Vietnam Intellectual Property Association is one of the achievements of Ngoc Diep's business strategy. The company's plan to make a difference is to build consumer confidence and gradually dominate the Vietnamese aluminum market, according to one of its representatives. Three prominent elements of this strategy are:
Applying 4.0 technology in manufacturing
"The application of 4.0 technology in production is the key to making a difference and helping DinoStar become a bright spot on the domestic as well as international aluminum market, said the person.
DinoStar Aluminum Factory is currently applying 4.0 technology in production and has a large-scale, modern and automated application machinery. DinoStar owns a closed and continuous production system from billet casting, aluminum extrusion, powder coating to finished products. The quality management system complies with ISO 9001:2015, ISO 14001:2015, TCVN 5838:1994, QCVN 16:2014/BXD; JIS H4100:2015; EN 755-9:2016. The factory supplies more than 55,000 tons of aluminum and 60,000 tons of billets to the market every year.
DinoStar aluminum factory also invested in a powder coating line imported from Wagner (Germany) that uses 4.0 technology. The automatic paint spraying robot system allows the line to run 24/24, reaching a monthly capacity of over 3,000 tons.
Besides the German burner system, the paint line also incorporates an infrared light system to stabilize the paint surface. Aluminum products can be painted in a variety of colors and their surface quality meets European standards.
The application of technology 4.0 creates a connected smart factory and flexible automation. Information regarding quality, paint thickness, recovery consumption and machine stability are all controlled by the central server system of Ngoc Diep and Wagner Group. This helped the factory increase the productivity of the paint line by 40%.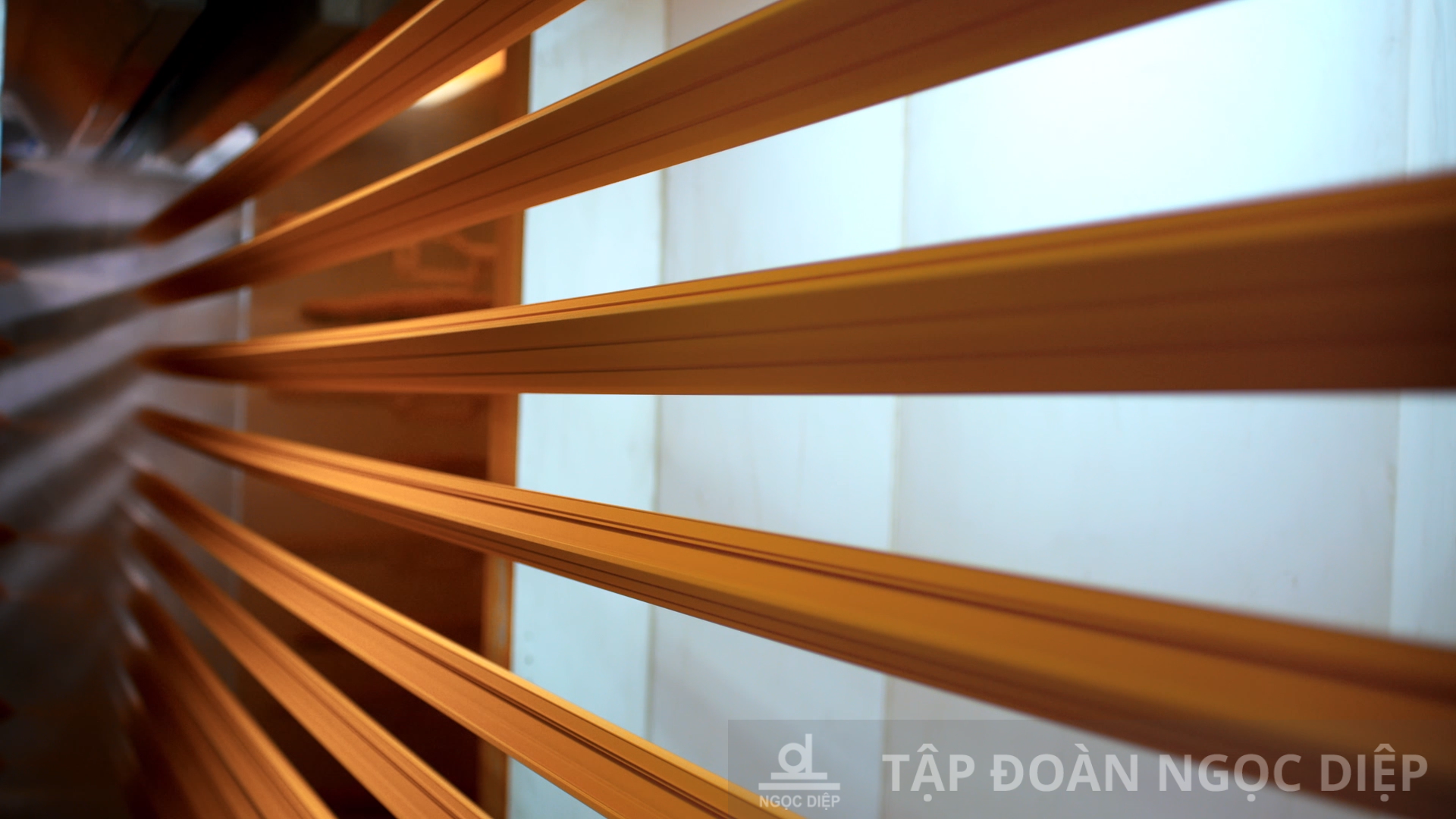 Powder coating line system applying 4.0 technology imported from Germany, helps DinoStar aluminum make a difference in quality
Digitization in management and operation
Ngoc Diep Group applies ERP (Enterprise Resource Planning Systems) to collect, manage and analyze data from its business activities, including planning on products, costs, production and service provision, marketing and sales, delivery and payment.
In order to trace the origin of the supplier's materials, trace the origin of finished goods, trace the Blockchain solution are used by Ngoc Diep Group to trace the origin of the supplier's materials, the origin of finished goods and the origin of errors, serving the quality control stage.
Big Data is used to  effectively exploit data to improve operations and business agility. Artificial Intelligence (AI) technology is used for the production, storage, and analysis of information. Data collected from these sources are crucial for developing new product lines incorporating new designs, materials and manufacturing processes. The objective is to meet the ever-changing demands of customers regarding usage, techniques, models, quality, delivery times, and cost.
Differentiation strategies for Label templates
DinoStar stamps are green in color, making it easy for consumers to identify and avoid confusion with fakes and imitations.
In addition to applying 4.0 technology in production, administration and operation to make a difference in product quality, Ngoc Diep Group also actively navigates customer awareness through a stamp template differentiation strategy. DinoStar stamp stands out with its green color, consistent with its brand identity, making it easy for customers and partners to recognize.
Find more at Vnexpress: https://vnexpress.net/tap-doan-ngoc-diep-phat-trien-nhom-dinostar-bang-su-khac-biet-4280856.html