Dinostar Aluminum joins the global supply chain
Several of the world's leading manufacturers have invested and established production plants in Vietnam, such as Samsung, Cannon, Intel, Ford, Toyota, etc., creating opportunities for Vietnamese businesses to participate in the global value chain, therefore building and developing Vietnam's supporting industries.
Being a link in the global supply chain brings high and stable value to businesses. However, it is not easy to become a vendor for multinational companies because the corporations have very strict guidelines for evaluating suppliers. Meanwhile, Vietnam's supporting industry enterprises are typically small and medium enterprises with limited resources, low management skills, and a limited ability to invest in technological innovation, expand production scale, improve productivity, and increase quality, in order to be competitive in the supply chain of foreign direct investment companies.
Thanks to its strengths in production capacity, financial potential and professionalism in management and administration, Ngoc Diep Aluminum Joint Stock Company with the Dinostar Aluminum brand has joined the global production value chain for aluminum products and accessories used in the field of mechanical – electrical – electronic.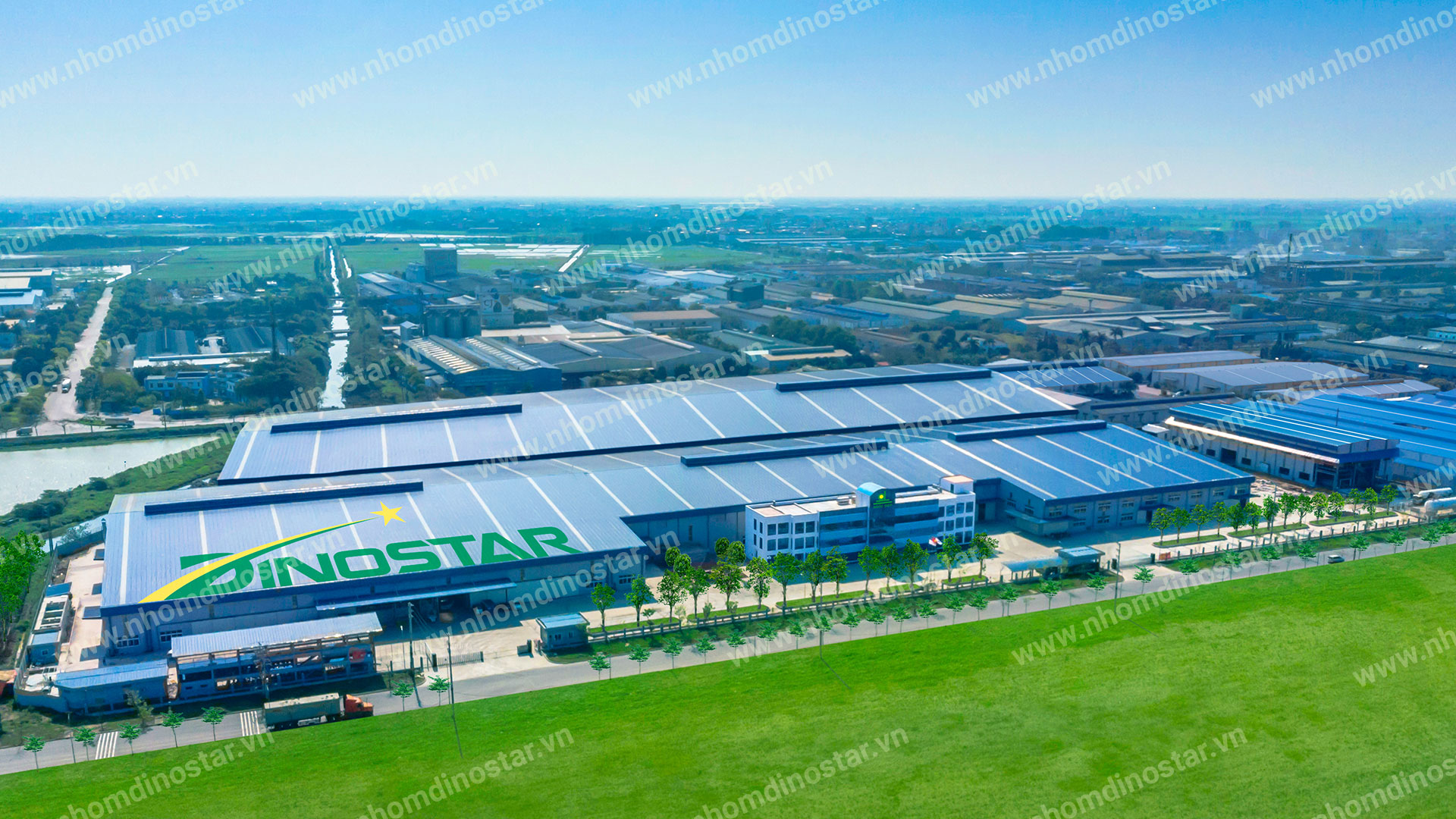 Dinostar Aluminum joins the global value chain of aluminum production.
 (Photo: Dinostar Aluminum Factory – Ngoc Diep Aluminum Joint Stock Company)
To participate in the supply chain, Ngoc Diep Aluminum Joint Stock Company has passed a set of global standards established by foreign enterprises, including:
Firstly, Ngoc Diep Aluminum Joint Stock Company owns one of the biggest factories in the field of aluminum production in Vietnam. Dinostar Aluminum expanded its production area in 2021, from 75,000m2 to 120,000m2, consolidating its leading market position. Modern and advanced technology is installed in the production line system imported from Japan, Germany, Italy, and Taiwan to improve production efficiency and product quality.
Secondly, to ensure the factors of Quality – Cost – Production schedule, most foreign enterprises require suppliers to apply technology to production and management. Dinostar Aluminum Factory pioneers the use of 4.0 technology through an automated machinery system, a closed production line, and a high-tech application. Smart factory connected and flexible automation helps Dinostar Aluminum increase productivity, cut costs, and ensure the quality, schedule and delivery requirements of the world's leading corporations. In addition, the digitization of operation management, involving Blockchain technology, Big Data and ERP software, helps to manage production, inventory, marketing, and sales efficiently, ensuring mass production.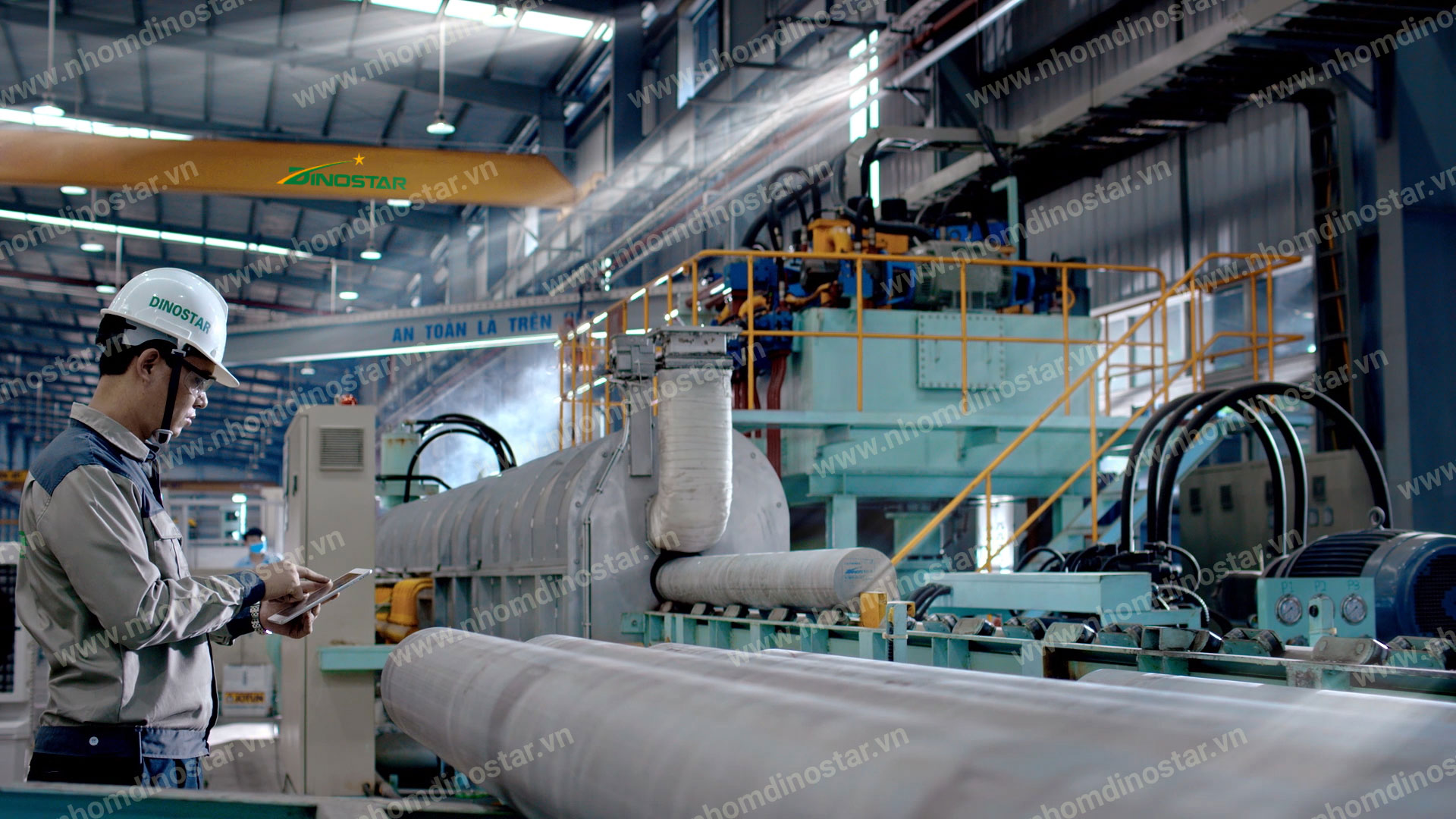 High-tech machinery line system at Dinostar Aluminum Factory.
(Photo: Ngoc Diep Aluminum Joint Stock Company)
 Thirdly, FDI enterprises pay special attention to the supplier's quality control process. The products of multinational corporations are exported to many parts of the world, so all supplied components must meet international standards. Ngoc Diep Aluminum Joint Stock Company applies a management system in accordance with ISO 9001: 2015, ISO 14001: 2015 and Dinostar Aluminum products meet all strict international standards set by reputable organizations. The production line is equipped with a closed "cleanroom" to minimize product quality problems.
Fourth, multinational corporations encourage partners to conduct research and development to continuously improve product quality and reduce product costs. Research and development spending is an important evaluation criterion. Dinostar Aluminum has built an R&D Center in its own factory with modern equipment and a team of highly qualified engineers, aimed at providing products with high science and technology content and cost-effectiveness.
Fifthly, in addition to the criteria of production and quality management, Ngoc Diep Aluminum Joint Stock Company also meets the criteria of corporate governance such as development strategy, financial capacity, ability to cope with risks, etc. risks, law compliance, environmental protection, employee benefits, etc.
Dinostar Aluminum passes a series of international standards required by multinational companies.
(Photo: Ngoc Diep Aluminum Joint Stock Company)
Joining the ecosystem of suppliers with tens of billions of dollars in revenue of multinational corporations proves the serious investment and unremitting efforts of Ngoc Diep Aluminum Joint Stock Company in providing high-quality aluminum products, bringing value to customers and partners, contributing to the development of the country's economy.
As a member of a global eco-system of suppliers, Ngoc Diep Aluminum Joint Stock Company demonstrates an unremitting commitment to providing high-quality aluminum products, enabling customers and partners to gain value, contributing to the country's economic development.
The company will take advantage of opportunities with world's leading multinational corporations to transform value chain, improve global competitiveness to access new opportunities on the world market in the coming years.
See more at Dantri newspaper: Dinostar Aluminum joins the global supply chain