Aluminum prices continuously hit peaks over the first half of 2021
The global aluminum prices in the first six months of 2021 increased continuously, setting multi-year high records. Several fundamental factors are responsible for the sharp volatility in aluminum prices including major country policies, inflation, rising transport costs and imbalance of supply and demand. This trend is expected to continue in the last six months of the year, causing difficulties for manufacturers and the domestic market.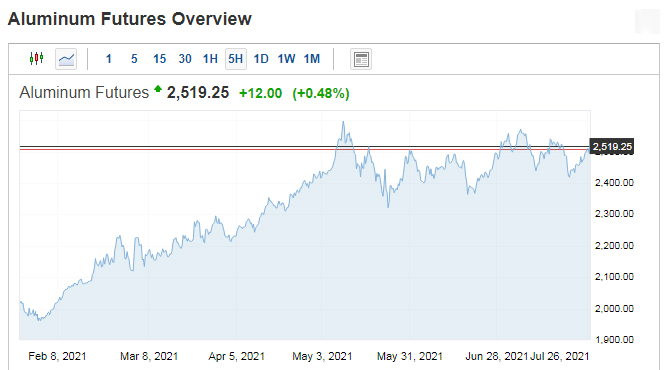 Aluminum prices have continued to rise during the first half of 2021
Aluminum prices traded on the Shanghai Metal Exchange on March 16 hit a nine-year high, at 17,980 CNY/ton ($2,766/ton) and reached an 11-year high at 18,460 CNY/ton ($2,830/ton) on April 16. Aluminium's LME price climbed to a 3-year high of $2,603/ton in early May.
Countries' production protection policies
A number of policies in the EU, UK, and Russia, designed to protect domestic aluminum production, have led to a sharp rise in aluminum prices. Many countries accuse China of maintaining an excess of aluminum and steel production and selling at lower prices than the average. The European Union imposed anti-dumping duties ranging from 21.2% to 31.2%, and a temporary additional tax between 19.3% and 46.7% for certain Chinese aluminum products imported into the European Union. The UK officially launched an anti-dumping investigation of Chinese aluminum on June 21. Russian authorities implemented a 15% aluminum export tax from August 1 to the end of the year to protect the domestic defense and construction industries from rising raw material costs.
Moscow levies a 15% tax on aluminum exports to protect the domestic industry (Photo: Reuters)
Inflation and high transportation costs
After a series of massive government fiscal support packages and the Fed's loosening monetary policy in the context of a strong recovery of the US economy after Covid-19, US inflation has reached a very high level. After a series of massive government fiscal support measures and the Fed's easing of monetary policy in response to a strong recovery in the US economy following Covid-19, inflation in the US is rising quickly.
US inflation led to a depreciation of the dollar – the international currency of aluminum, contributing to pushing up aluminum prices.
Freight rates have risen sharply globally due to congestion and disruptions to supply chain by the Covid-19 pandemic. "Decade-high ocean freight rates have seen the costs of delivering aluminum skyrocket," said Jorge Vasquez, founder of consultancy Harbor Aluminum.
Supply and Demand Imbalance
Aluminum supplies are at risk of being squeezed due to anti-pollution policies in China, which accounts for about 60% of global aluminum production. Meanwhile, the United States announced a series of sanctions against Russia over allegations of election interference, cyber security, the conflict in Ukraine, and so on. In 2018, US sanctions against Russia pushed aluminum prices on the London Stock Exchange to a seven-year high.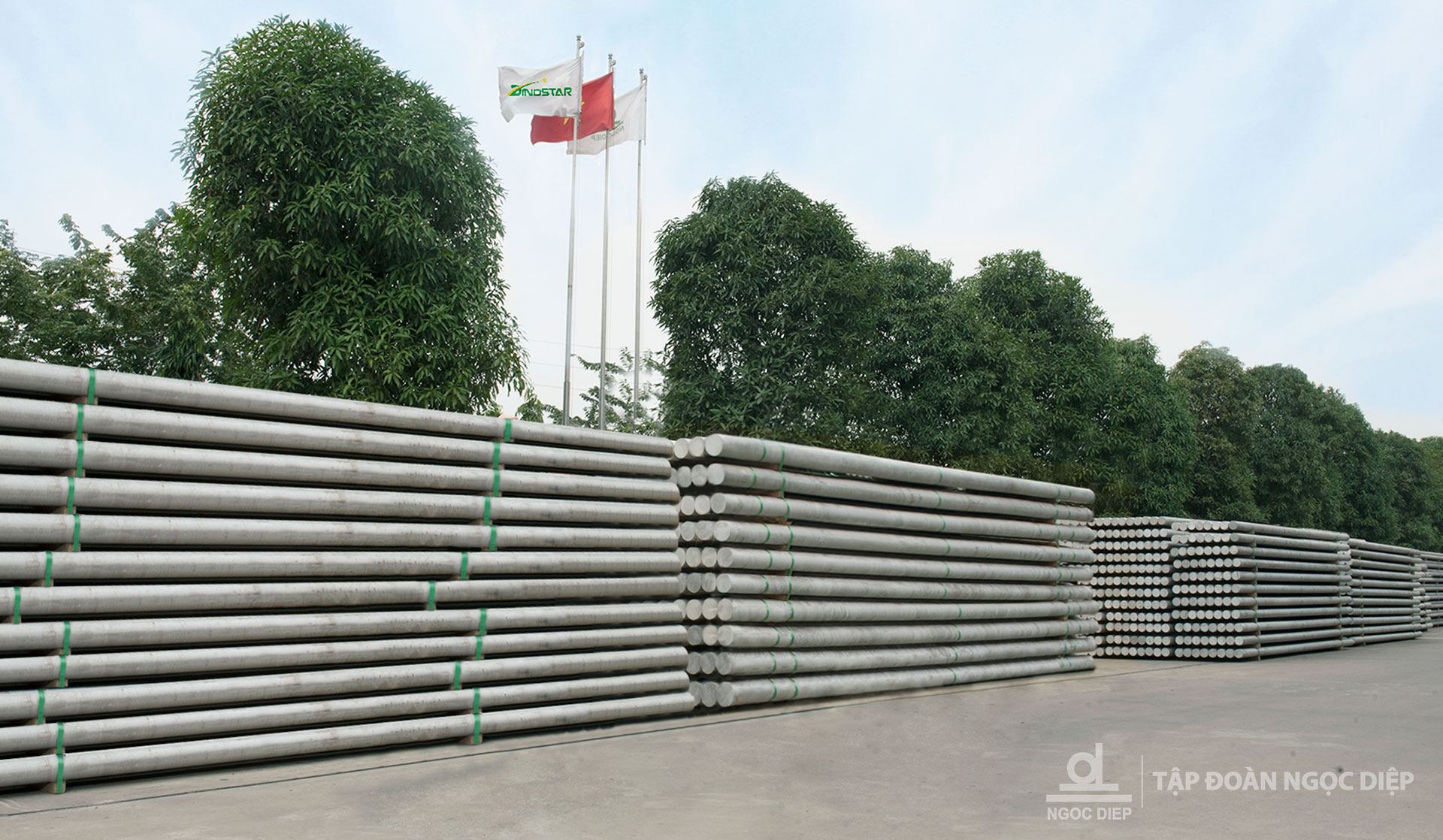 Global Aluminum demand has increased rapidly (Photo: Ngoc Diep Group)
While the aluminum supply is limited, the demand is still growing steadily. Global economic growth is expected to reach 5.4% in 2021, thanks to a strong recovery in major economies such as the US, China and Europe. When the global economy recovers after the pandemic, aluminum demand rises sharply due to its wide range of uses in transport, construction, electronics, etc. Citi analysts expect global aluminum consumption to grow 6.4% this year to nearly 68 million tons and 4.6% in 2022 to nearly 71 million tons. Citi analysts predict that global aluminum demand will grow 6.4% this year to nearly 68 million tons and another 4.6% in 2022 to nearly 71 million tons. Citi predicts that the world aluminum market will have a surplus of 720,000 tons of aluminum in 2021, but a deficit of 590,000 tons in 2022.
Domestic market difficulties
Domestic aluminum producers report that in the first half of 2021, the availability of raw aluminum will not be sufficient to meet the demands of manufacturers, causing the price of aluminum raw material to continue to rise. Manufacturers are delayed in receiving materials by 2 to 3 months compared to the contract, affecting short-term production. Aluminum's high world price and rising raw aluminum demand have pushed up the domestic price of aluminum.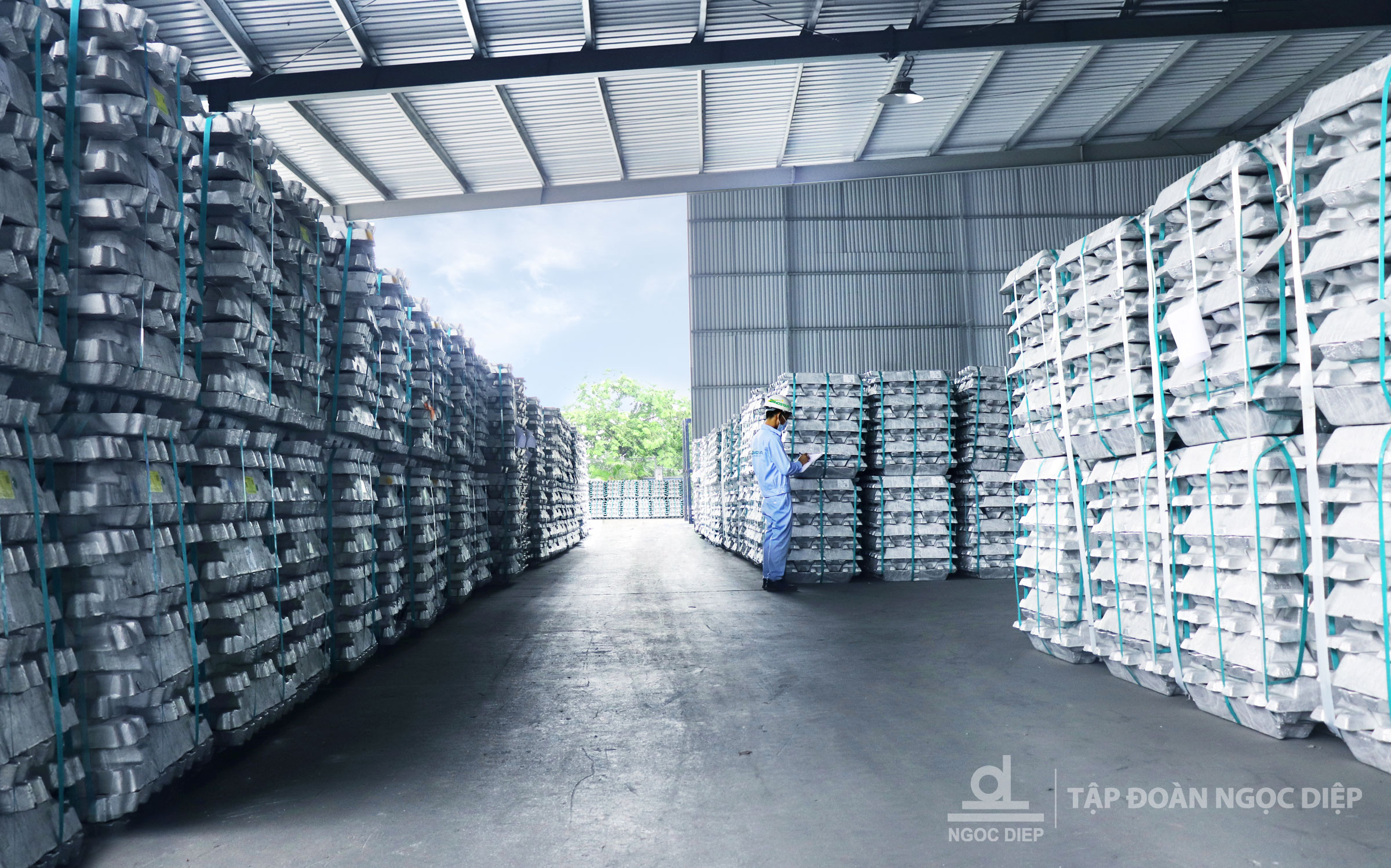 To ensure supply for the market, aluminum producers need to be proactive about their raw material sources (Photo: Ngoc Diep Group)
In addition to facing difficulties when raw aluminum increases, the domestic aluminum industry is also under pressure from Chinese enterprises on their own market. Chinese enterprises have been reported to have invested in aluminum factories in Vietnam to avoid Vietnam's anti-dumping tax and anti-dumping taxes when exporting aluminum to the EU, UK, US and other markets.
Due to the above difficulties, Vietnamese aluminum manufacturers need to have effective risk management solutions, prepare raw materials for long-term use, and optimize organizational and operational capacity in order to maintain production and ensure supply during and after the epidemic. Ngoc Diep Aluminum Joint Stock Company with the Dinostar Aluminum brand is a typical example of proactively sourcing raw materials to ensure production in a volatile market environment. The company's strong financial position, coupled with proactive stockpiling of raw materials, guarantees a stable supply of raw materials for maintaining production.
In 2021, the company will expand its Dinostar Aluminum factory, increasing its total production scale from 75.000 m2 to almost 12.000 m2 while investing in modern machinery lines equipped with the latest 4.0 technologies. Ngoc Diep Aluminum Joint Stock Company maintains a stable growth rate with outstanding production capacity and the initiative to adapt to the market situation, ensuring an abundant supply of aluminum products and high quality aluminum billets for the market.
Cafef article: https://cafef.vn/gia-nhom-lien-tiep-lap-dinh-trong-6-thang-dau-nam-20210728193905318.chn