3 advantages that make Dinostar aluminum billet popular with businesses
Produced in the direction of "putting quality as the center of development", Dinostar's aluminum billet products have won the trust of domestic and foreign enterprises.
Here are 3 outstanding advantages that help Dinostar aluminum billet shine in the aluminum market.
Produced from high quality ingot aluminum grade A
Dinostar aluminum billet is produced from aluminum ingot with pure aluminum content up to 99.89%, iron content is guaranteed below 0.05%, imported directly from Australia, USA, Middle East., limited minimize oxidation. Therefore, Dinostar aluminum billet has outstanding uniformity, good formability, and is easily extruded into aluminum products used in industry and construction. With the standard alloy content for export to the US and Europe, Dinostar billet aluminum extrusions are always stable, passing the rigorous testing and quality control procedures of leading inspection organizations. of Vietnam and internationally.
Modern production lines
At the 120,000m2 Dinostar aluminum factory, Dinostar aluminum billet is produced on a continuous, highly automated closed line imported from Japan, Germany, and Italy. State-of-the-art furnace, casting and assimilation system with a capacity of up to 60,000 tons of billets per year. In order to produce superior quality billet bars, the sampling and quality control process during the smelting process is rigorously carried out using standard laboratory and testing equipment. The production process meets US, European export quality and environmental protection standards.
Environmental friendliness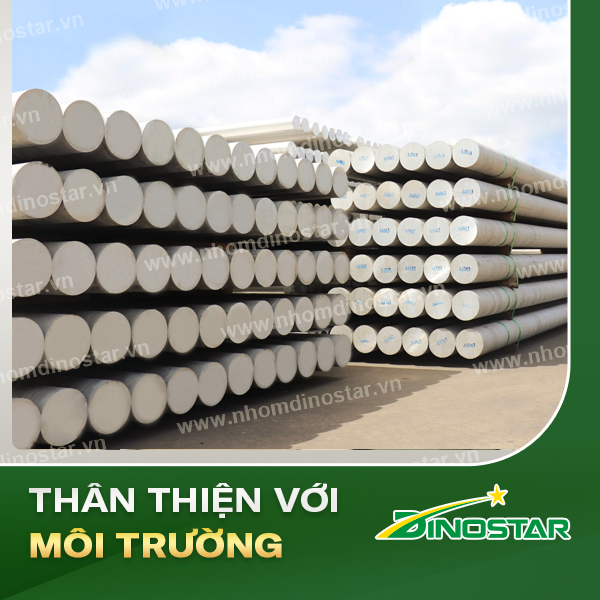 Dinostar aluminum billet has achieved RoHs green standard issued by Europe after passing strict tests on clean materials. Overcoming strict regulations on green materials, Dinostar aluminum billet towards sustainable development associated with the environment and human health.
Dinostar aluminum billet includes 6000 series: A6063, A6061, A6005A….; series 7000: A7075,… Therefore, Dinostar aluminum billet meets the specialized requirements of diverse fields: construction, manufacturing industry, consumer goods…
Contact us now for thorough advice and learn about attractive opportunities when becoming a partner – customer of Dinostar Aluminum.